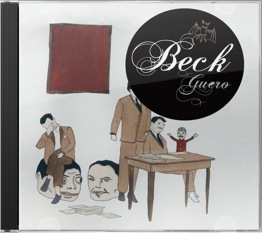 (not actual Deluxe Version Artwork)
TWO-DISC DELUXE COLLECTOR'S EDITION OF "GUERO" INCLUDES:
- Full album plus seven exclusive bonus tracks - An exquisite 52 page booklet of art chosen by Beck - Technologically groundbreaking DVD featuring a 5.1 surround sound mix of the album coupled with interactive video remixes of each track (designed by acclaimed video artists D-Fuse). Over 100 unique visual possibilities -- as directed using the remote control's "angle" button
Three years after the critically acclaimed and heartwrenching opus "Sea Change," THREE-TIME GRAMMY WINNER and FIVE-TIME MTV VIDEO MUSIC AWARD WINNER BECK returns with his most diverse, accomplished and compelling work to date: "GUERO."
With the raucous first single "E-Pro" triumphantly "na-na-na"-ing Beck's return with a must-be-seen-to-be believed video by Shynola (Queens of the Stone Age, Radiohead), "GUERO" both reunites Beck with classic co-conspirators the Dust Brothers and explores territories uncharted by even this most innovative artist of his generation.

uuid:
FE17C9EF-76B4-4070-8757-B8CB08B9683F
upc:
0602498640302
tracklisting:
E-Pro
QuŽ Onda Guero
Girl
Missing
Black Tambourine
Earthquake Weather
Hell Yes
Broken Drum
Scarecrow
Go It Alone
Farewell Ride
Rental Car
Emergency Exit
Just a Message to Her
Chain Reaction
Clap Hands
Girl [Octet Remix] [Mix]
Broken Drum [Boards of Canada Remix] [Mix]
Still Missing [Röyksopp Remix] [Mix]
Fax Machine Anthem [Dizzee Rascal Remix] [Mix]
title:
Guero (W/Dvd)
rating:
4
purchase date:
08-05-2005
published:
29-03-2005
price:
$29.99
net Rating:
4
last lookup time:
137285536
genre:
Indie Rock
Alternative Dance
fullTitle:
Guero (W/Dvd)
currentValue:
$65.00
created:
137285520
country:
us
aspect:
Audio CD
asin:
B0007W22F2
artist:
Beck